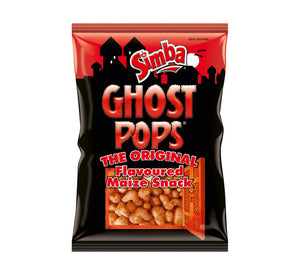 Simba Ghost Pops 100g
Ghost Pops are a firm favourite among millions of people in SA! This snack appeals to their adventurous side and their willingness to embrace new things that are tasty and fun at the same time.  Ghost Pops are the perfect partner on days when adventure and fun is in the air.  You'll find Ghost Pops at most parties and if by some crazy chance you don't, you better find 'em fast before the party suddenly disappears like a ghost!

Simba, is the South African King of Snacks, and he guarantees that every pack will be of the highest quality, and will always Roarrrr with flavour!
Simba Chips is a probably the most popular South African brand of potato crisps. It was first introduced in 1957 by the Greyvensteyn family. "Simba" is the Swahili word for "lion" and the product's mascot is an adult male African Lion.