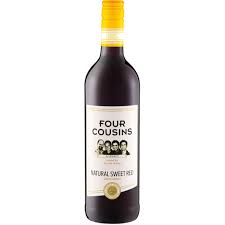 Four Cousins Natural Sweet Red Wine 700ml
Four Cousins Natural Sweet Red is a garnet-coloured wine with a soft rose petal nose and flavours of ripe plums, juicy raspberries and a soft silky finish.
Best enjoyed chilled to compliment spicy dishes and desserts and matured cheese.
The Four Cousins range of wines is named after real-life cousins Hennie, Bussell, Neil and Phillip Retief, the 3rd generation of wine lovers at Van Loveren Vineyards.
Strength ABV - 8,5%
Not for sale to persons under 18 !
Customer Reviews
Best wine I've ever tasted
Great wine, great service 10 out of 10