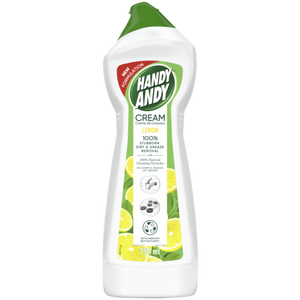 Handy Andy Cream Lemon Fresh 750ml
Trusted by South African's for generations for its cleaning strength.
Remove 100% of stubborn dirt and grease, with this highly effective multipurpose cleaning cream. Suitable for all surfaces, it cleans and rinses to give a beautiful shine, with a lovely lingering lemon scent.
Enrich your home with unrivalled shine and a fresh scent with the power of this household cleaning cream infused with micro crystals and ammonia.