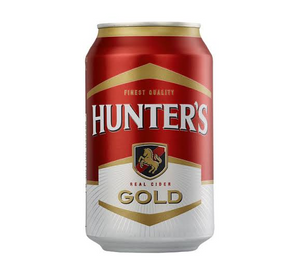 Hunters Gold Cider Singular 330ml Can
Hunter's is a pure premium, and thirst quenching natural cider, that consistently delivers the ultimate in refreshment. Hunter's Gold was launched in 1988 and appeals to all South Africans, allowing it to claim the best selling cider brand in South Africa. 
Hunter's Gold is the original golden cider with a slightly sweeter taste for natural and sparkling refreshment.
Strength ABV - 4,5%
Not for sale to persons under 18 !