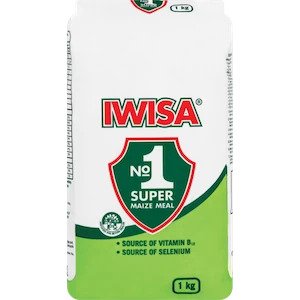 Iwisa No1 Super Maize Meal 1kg
Delicious Original flavour. Mielie Meal and Pap King.
Iwisa No.1 is an iconic maize brand and a family favourite, since 1956. It is a brand that has captured the hearts and minds of our nation, building trust and creating wonderful family memories with every delicious meal - whether for breakfast, lunch or supper - through consistent quality, taste and fill.
The full Iwisa No.1 range comprises of; Iwisa No.1 Super Maize Meal, Iwisa No.1 Traditional Samp, Iwisa No.1 Parboiled Quick Cook Samp, Iwisa No.1 Maize Rice, Iwisa No.1 Braaipap, Iwisa No.1 Creamy Maize Flour & Iwisa No.1 Instant Maize Porridge. Whichever Iwisa No.1 maize product you choose, you will find it to be an excellent accompaniment to meat dishes as well as vegetable dishes, casseroles and stews. Our instant maize porridge is a delicious breakfast solution that is quick and easy to make and can be consumed on the go or as a quick snack.
Year after year Iwisa No.1 is still the choice for taste and quality. Iwisa No.1 provides homely meals (warm, nourishing, filling) that draws people & communities together, giving them a sense of belonging, and ensuring that everyone is well fed. With Iwisa No.1, every1's welcome.