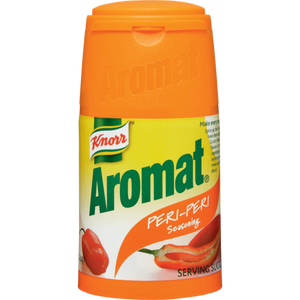 Knorr Aromat Peri Peri 75g
The famous South African all purpose seasoning. Aromat's hearty Peri Peri seasoning will tantalize your palate with moderate Peri Peri and deep Aromat flavour. Ideal for adding some spiciness to your meal and it goes with everything.

Knorr Aromat Seasoning is a finely balanced blend of herbs and spices, carefully selected to bring out the best in your cooking. It's incredibly versatile - you can use it just like salt and pepper, either whilst cooking or at the table as a condiment..