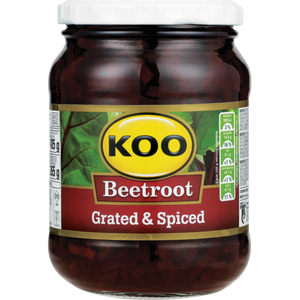 Koo Beetroot Grated in Spiced Brine 405g
KOO Sliced Beetroot ensures that making a memorable salad is a breeze!
Vivid and spicy, Koo Grated & Spiced Beetroot makes an absolute difference to your salad. A quick and easy ready-made salad for any braai or get together. Koo grated and spiced beetroot also adds a lovely colour to your baking and savoury dips.