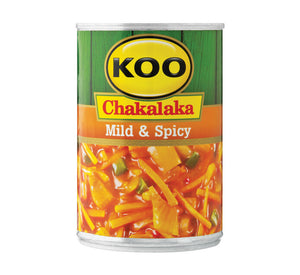 Koo Chakalaka Mild and Spicy 410g
Famously South African - Koo mild and spicy Chakalaka is a perfect accompaniment to your favourite dish.
Koo Mild and Spicy Chakalaka is a ready-to-eat salad or side dish, produced from choice grade ingredients in the traditional South African way. 
Koo Mild & Spicy Chakalaka is sure to add flavour and spice to your samp, pap, and braai meat.