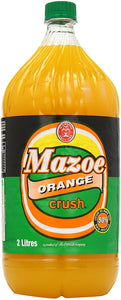 Mazoe Orange Crush 2L
Mazoe Orange Crush is a homegrown cordial that has been trusted by generations of mothers to give real refreshment for their families. Every bottle of Mazoe Orange Crush is packed with 50% orange juice to give it that authentic, tangy orange taste that only Mazoe is renowned for. It is great as a mixer for cocktails, fruit juice punches and an ingredient for fruit smoothies.
Mazoe gives more value or money with a dilution ratio of one part Mazoe to four parts of still or sparkling water. It is available in affordable 1 litre and 2 litre packs as well as a "light" variant for those on a managed calorie diet. Enjoy Mazoe Orange Crush, any time of day, all day for real orange refreshment.