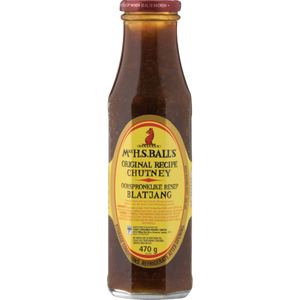 Mrs Balls Chutney Original Glass 470g
No need to say more, probably South Africa's most famous sauce. Ideal for food accompaniments, curries and cooking.
Apparently Mrs. Ball was born as Amelia Alice Elizabeth Adkins in Fort Jackson, East London, in 1865. Mrs Balls started selling to Home Industries in about 1918, she sold about 24 bottles a day, now more than 8 000 bottles a day.
Please check our recipes for a make at home version of Mrs Balls Chutney.
Customer Reviews
03/06/2023
Liam C.

United Kingdom
Tasty
Slightly more of a tang than I remember, but then it has been 40 years. Absolutely delicious in a stew or with grilled cheese on toast.
07/03/2022
Paul R.

United Kingdom
Mrs Ball's Chutney
Mrs Ball's chutney is amazing !!! On a cheese sandwich or on a pork chop at a braai !!!! Incredibly good !