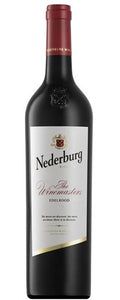 Nederburg Winemasters Edelrood 750ml
Garnet red. Delicious aromas of red fruit and blueberries with nuances of tobacco. Soft and juicy with ripe fruit and spicy oak flavours. Soft tannins and well-integrated oak add to the complexity of the wine.
Nederburg's reputation as South Africa's most awarded name in wine is no cause for complacency. A shared sentiment among our wine masters is that "Curiosity is key to forever discovering new ways of doing things better". Nederburg Wines has a long and proud winemaking legacy. Find out more about our award-winning wines and the skilled team who dedicate their combined experience and expertise to consistently crafting the very best wines possible each vintage
Strength ABV - 13%
Not for sale to persons under 18 !