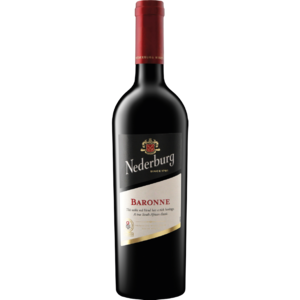 Nederburg Winemasters Baronne 750ml
Deep ruby colour. Alluring aromas of spicy dark blue and black berry fruit. Juicy, soft and plush in the mouth with blueberry, cassis, a twist of pepper and cinnamon. Rich and textured.
Nederburg's reputation as South Africa's most awarded name in wine is no cause for complacency. A shared sentiment among our wine masters is that "Curiosity is key to forever discovering new ways of doing things better". Nederburg Wines has a long and proud winemaking legacy. Find out more about our award-winning wines and the skilled team who dedicate their combined experience and expertise to consistently crafting the very best wines possible each vintage
Strength ABV - 13,5%
Not for sale to persons under 18 !