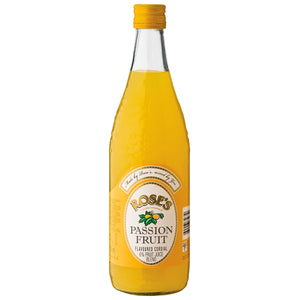 Roses Passion Fruit Cordial 750ml - Essential South African Mixer
Roses was the world's first commercially produced fruit concentrate, and still here today providing tried and tested concentrates that have made the test of time.

South Africa's number one choice for cocktails and mixers, Cocktails and mocktails have never tasted this good.
Customer Reviews
Reminds me of growing up in South Africa
I love this juice. Mix it with sparkling water and it brings back memories of growing up in SA. It is very refreshing and I love grenadillas (or passion fruit as they are called in the UK). A nice change from orange squash
07/03/2022
monica R.

United Kingdom
It's full of passion
Lovely taste and during summer it tastes so good.