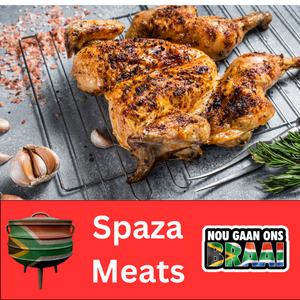 SA Spaza Chicken Flattie Garlic Butter 1kg Plus
THIS PRODUCT MAY BE SHIPPED FROZEN OR CHILLED DEPENDING ON AVAILABILITY



All our SA Spaza meats are made using only the finest beef, pork and chicken, and carefully spiced with our butcher's family recipe that has been tried and tested for over 15 years in the industry.

With our exceptional meat quality and attention to detail will ensures that each and every Braai is bursting with South African Flavour. All meat is freshly prepared and dispatched chilled ready for the braai immediately or frozen for later enjoyment.
If sent Frozen this product is not suitable for re-freezing if defrosted in transit, unless the product is still frozen on arrival. Due to the courier demands and weather conditions, it is possible for it to thaw in transit. We will indicate if send frozen or chilled.
Meat orders are shipped Monday to Thursday UK Mainland ONLY. Shipments are made for next day delivery, dependant on courier demands and constraints, IRO all orders placed before 10am on the day. We generally only ship freshly packed chilled products, but in this instance it may be frozen due to availability. All our butchery items are suitable for freezing. Each product will have a pre labelled "FROZEN ON" stamp, please freeze by this date if not consumed beforehand. A best before date is also reflected if frozen.

Per our Terms & Conditions regarding fresh meat shipping you must PLEASE ENSURE SOMEONE IS AVAILABLE FOR ACCEPTANCE OF THE PARCEL OR SAFE PLACE LISTED on DPD or Parcelforce. As we are shipping fresh meat NO REFUNDS will be issued for missed orders or failed delivery attempts.
NB if you have selected a "safe place delivery", thereby authorising a release of the shipment without signature, you are accepting full responsibility for this shipment. This "instruction" will feature on the electronic Proof of Delivery. Neither the seller nor the carrier shall be held liable for any loss potential or subsequent whatsoever.
Ingredients
Whole Chicken, acetic acid (colour E150a, malt flavouring, salt) sunflower oil, butter, water, herbs, garlic, puree, spices, and flavouring
For the best Braais BBQ's Barbeques use Spaza Chicken Flatties Spatchcock.