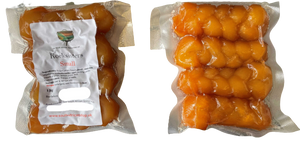 SA Spaza Shop Koeksisters 6 Pack small min 150g
A sweet traditional South African heritage delicacy - pastry plaits are fried and dipped in syrup. Apparently Brought to South Africa by the Malayan settlers together with many other.
Nothing beats a koeksister, dripping of syrup is an unforgettable experience.
Can be frozen for use  later or serve straight from the freezer.