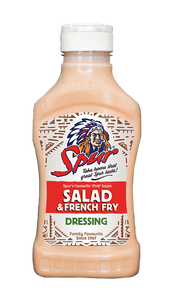 Spur Sauces Salad & French Fry Dressing Sauce Bottle 500ml
GENEROUSLY POUR SPUR SALAD & FRENCH FRY DRESSING OVER ANY MEAL TO GIVE IT THAT GREAT SPUR TASTE.
THAT AMAZING PINK SAUCE!
Better known to South African diners simply as 'pink sauce', Spur's Salad & French Fry Dressing is a firm favorite with kids and adults alike. Deliciously creamy and tangy, this much-loved condiment can be used to dress up everything from tuna sandwiches and quiches to pastas and salads. But Obviously a must for any chip lover.

Perfect for use on the table, or an easy option to pack up and take along on outings.