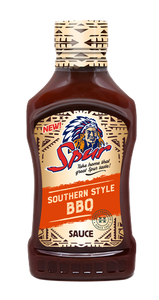 Spur Sauces Southern Style BBQ 500ml
ADD THAT GREAT SPUR TASTE TO YOUR FAVOURITE CUT OF MEAT WITH SPUR'S ALL-ROUND BRAAI MARINADE AND/OR BRUSH ON SAUCE.
Think of the new Spur Southern Style BBQ as a handy little magic wand that just happens to reside in your fridge or pantry.
This product is vegan-friendly and contains no animal products.

This product is Halaal certified and Kosher certified.